Our most recent articles are located here
This page is where you'll find the previous stories from the Broken Wings home page. The stories are laid out in chronological order with the most recent at the top of the page. If you're looking for something specific, there is a search box down in the footer of the page.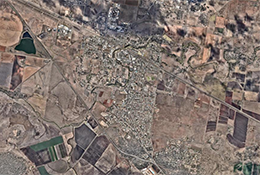 Following around two months of research by ourselves working with a government department, we've uncovered what has to be our most amazing lead yet.
Following the end of World War II, 6AD Oakey was effectively shut down and the 550 aircraft that had arrived there were left out in the paddocks around the airfield awaiting disposal. The order of the day to base personnel was, 'once you've cleared out the hangars and storage areas, you can go home'.
» read more
So as we've heard time and time again there was a mad rush to get rid of everything any way the personnel could. if there was a creek, a gully, a culvert, a depression in a paddock and of course a mine shaft, stuff was dumped in it. As long as it was gone from the base, that's all anyone cared about. Which leads us to our discovery.
On the 15th November 1945, around the time when base personnel were furiously demobbing and clearing out the base any way they could a report appeared in an obscure, but official government document. And here's the killer –
It gives us the EXACT location where some of the base rubbish/equipment/junk was dumped. And the location was BIG. We believe this site has never been explored before. So to keep things on the quiet, we've had to hide the exact location (sorry) from the text. Here's what was written:
"Large lorry loads of rubbish from the Oakey RAAF Depot have been dumped in a xxxx xxxx xxxx about xxxx yards from the xxxx xxxx from xxxx to xxxx at xxxx."
Just incredible. Now if we could just find the money to get up there and do something about it…
» read less
Tyabb Air Show A Huge Success

The Tyabb Air Show is over for another year – well two years actually and there's just one word that accurately describes it… sensational. It might not be the biggest, the loudest, have the biggest budget or the overseas blow ins. But what is does have is community. A place where people with a passion all get together and enjoy themselves in an atmosphere akin to a country fair. You're up closer to the action better than just about any other Air Show in the country. The aircraft aren't miles away from the crowds, they're right there in front of you. You can talk to the pilots, the ground crew and just get this real down to earth sort of feel about it. 
» read more
So to the organisers, the pilots, the mechanics, the aircraft owners, the volunteers and club members, a huge thank you and congratulations for putting on such a superb, and the biggest, Tyabb Air Show yet. One that will no doubt get bigger in the future.
We were there in more of an official capacity after being asked by the 'Plane Crazy' guys to assist in shooting and editing the Air Show for their official DVD. So we do have some amazing footage 'in the can' – including Matt Denning's formation flight in his CT-4 with our new fly360 camera. As its name suggests it's a 360 degree camera that enables you to view the action from just about any angle, while the video is playing. We'll put it up on line once we've given it a slight grade and cut it down a little. We also have some amazing drone footage shot in 4K by the guys from Skysight, here in Melbourne who were granted special permission from CASA to operate not only over the airfield but over the public areas of the Air Show.
We've just uploaded 60 images from the air show to a new gallery page which can be found here.
» read less
New leads from Oakey, Queensland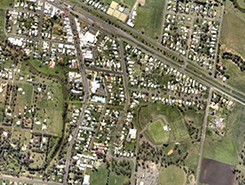 2016 has started out with more than we imagined it would with an interesting new lead on our search in Oakey.
Oakey was put on the backburner due to our adventures in Vanuatu as well as a distinct lack of new information to research. Just about every lead we could follow, has been investigated over the past 16 years – or so we thought.
» read more
We received an email from an Oakey local who has remained in contact with us over the years. He described to us yet another story of an aircraft and parts burial not far from Oakey in an area previously investigated by not only us, but a number of people some years ago. It's prompted us to visit the National Archives again and see what we can uncover, as well as make contact with State Government authorities and other organisations to see what information they have in their archives.
The story itself is very similar to those we've heard in the past regarding post war burials of aircraft and parts simply to get rid of them at the end of the war. It's a story we've heard many times over, often with a slightly different twist to it each time it's told.
Whatever the case, it has to be followed up. So we're waiting to hear back from an archive in Queensland that will hopefully have some detailed information that could really point us in the right direction. But who knows. Maybe this story will lead us no where, or it just might be the one? Our contact will be having a beer with the Oakey local who shared the story with him to see what else he knows.
» read less
The Mysterious Japanese Zero at Sale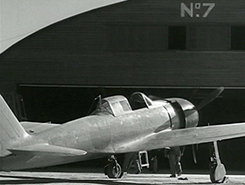 Royal Australian Air Force (RAAF) Base East Sale in Eastern Victoria, Australia has had quite a history beginning with is establishment as a gunnery and bombing training base for RAAF crews during World War II.
Opening on 22 April 1943 the base began life as the home of No.1 Operational Training Unit (1 OTU) flying Bristol Beaufort light bomber aircraft.
» read more
In addition to the Beauforts, a variety of different aircraft operated from the base including Lockheed Hudsons, Airspeed Oxfords and Fairey Battles. By wars end, over 3,000 RAAF aircrew had been trained at East Sale. And while it was primarily a training base, maritime surveillance and convoy protection units also operated from the base throughout the war.
One fascinating story concerning the base is that of a Japanese Zero aircraft that was at RAAF Base East Sale at the end of WWII. There is absolutely no doubt the Zero was there with various artefacts featuring prominently in a display at a local museum. We also have in our possession, a document from the National Archives of Australia (NAA) that speaks of its existence. There are also first hand accounts from people who saw it and photographs of parts of the aircraft after it had been disassembled. The big question is how it got there?
Some say it was flown in by a Japanese pilot who surrendered and was subsequently interned. But we have other theories as to how it ended up at Sale. We're currently looking into the story further and will hopefully have more to report soon.
» read less
South Pacific World War II Museum Video Now Online
The Broken Wings team have thrown their support behind the South Pacific World War II Museum, currently in the planning and fund raising stages in Vanuatu. We've kicked off our support with a video we've filmed and edited for the Museum featuring local Santo identity and museum founder, Brad Wood. The video is a fascinating look into the vital role Santo played in the Pacific Theatre during World War II. It's this role that forms the impetus for the establishment of a world class museum on Vanuatu's largest island. Brad's passion for the museum is nothing short of inspiring and once you've checked out the video you'll soon see why it will be such an important tourist attraction on Santo.
The Museum is currently looking for both private and corporate backers to get behind this important project. If you'd like to share Brad's vision and see the project come to fruition, contact the Museum at: ww2museum@vanuatu.com.vu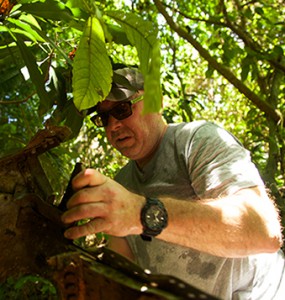 [wp_lightbox_prettyPhoto_video link="http://vimeo.com/120232837″ width=700 height=394 description="" source="http://brokenwings.com.au/wp-content/uploads/2016/02/Brad-Button.png" title="Museum Interview"]
World War II Corsair Discovered in Vanuatu Jungle
It was a hell of a slog to get there, but after five and a half hours of trekking through incredibly dense and humid jungle in Vanuatu we made it to the site of a crashed World War II Corsair aircraft. The Wreck Adventures team of Brigg Ranford, Karl von Moller and James Carter located the wreck following days of negotiations with local villagers and their village chief.
The site was unique in that the aircraft had not been seen by 'white man' since the war according to the villagers whose land the aircraft is located on. The aircraft was very difficult to see as the jungle had almost completely swallowed it up. But after around an hour of cutting back the dense vines that covered the remains, the aircraft's wings emerged from the forest floor.
A thorough search revealed that no fire had taken place either while the aircraft was coming in or when it crashed into the jungle, leading us to speculate that it may have run out of fuel prior to the crash. Additionally, the absence of .50 cal ammunition in the ammo boxes within the wings also leads us to believe it was out of ammo, so obviously the aircraft was on its way home from operations further north on the front lines, possibly around Guadalcanal. The .50 cal machine guns are in pretty good condition given their age and are still mounted in the wings of the Corsair.
We would have liked to have spent another day or two carefully picking our way through the wreck but time was against us. Plans are afoot to venture back to the wreck site in the coming months and explore the aircraft in greater detail.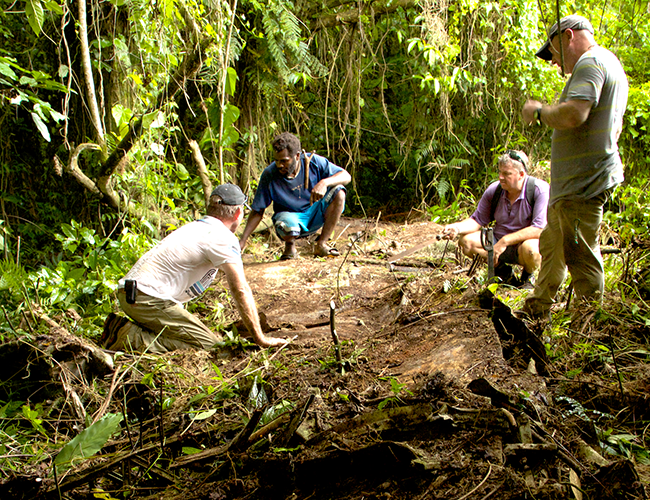 Broken Wings heads to Vanuatu
Following a relatively quiet period on the Oakey front, the Broken Wings team have decided to take a different tack – Wreck Adventures.
The plan is to produce a network based series that explores some lesser known wreck sites throughout the South Pacific and pull them together under the Wreck Adventures banner. We envisage the series being 12 episodes in length and exploring some incredible locations in not only Australia, but the Solomon Islands, Papua New Guinea and our first adventure on the island of Espiritu Santo in Vanuatu.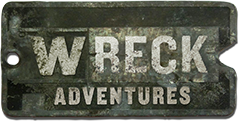 Joining the team for Wreck Adventures is Brigg Ranford. Like James and Karl, Brigg is an avid aircraft enthusiast, with hundreds hours behind the stick of a range of single and multi-engined aircraft. He brings to Wreck Adventures a wealth of aviation technical expertise and a passion for adventure that has seen him travel the world.
The Wreck Adventures team travelled to Espiritu Santo in early December to recce a number of sites throughout the island and shoot some preliminary footage to help nail down the Wreck Adventures concept and put together trailers and previews of the upcoming series. It's going to be an exciting production featuring remarkable stories, some of which have never been documented before. Over the next few weeks we'll be posting more on our adventures in Vanuatu. So keep an eye out for further updates.
In the meantime, click on the photograph below to see an exciting trailer we've put together that will give you some sense as to what it's all about.
[video_lightbox_vimeo5 video_id=114951506 width=640 height=480 anchor=http://brokenwings.com.au/wp-content/uploads/2016/02/oversize_home_video_button3.png alt="Home Page Pic" width="600″ height="223″]
Karl Shoots With New Gimbal Stabilised Rig
Nobody likes wobbly hand-held footage. To get around the problem a tripod is the obvious answer. But what if you want to shoot footage with the camera moving, say following someone through the jungle. Steadicam rigs are prohibitively expensive, so Karl invested in a relatively inexpensive gimbal stabilised rig. We took it with us to Vanuatu to put it through its paces and the results speak for themselves. Click on the image to the far right and see for yourself.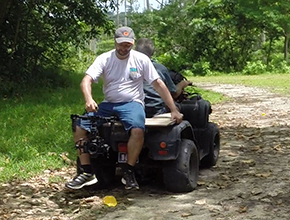 [video_lightbox_vimeo5 video_id=117974142 width=640 height=480 anchor=http://brokenwings.com.au/wp-content/uploads/2016/02/gimbal_video_link.png]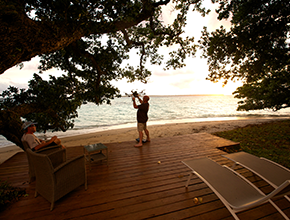 A Big Thank You to Steve and Wendy
Vanuatu is a wonderful place. It was our first time there and we weren't quite sure just what our accommodation was going to be like. Brigg played down everything and basically said don't expect too much. Well nothing could be further from the truth. We stayed with Steve and Wendy who have a house not far from Luganville and in a word, it was stunning. They were incredibly welcoming and assisted us greatly, introducing us to many people who have provided us with some amazing leads, many of which we would never have found ourselves. Steve and Wendy's culinary skills were breathtaking to say the least, and we couldn't have had more gracious and generous hosts during our stay on Santo.
James & Karl Shoot The Centenary Of Military Aviation Point Cook Air Show 2014.
The Broken Wings team headed down to Point Cook to shoot the RAAF Centenary of Military Aviation Point Cook Air Show. The aim of the shoot was to capture as much footage and stills as possible of warbirds both in flight and as static displays for the documentary.
Friday was a practice day for the aircraft and gave us the opportunity to test all our gear, establish the best position to shoot from and familiarise ourselves with the flying displays. It was a worthwhile exercise and certainly prepared us for the Air Show on Saturday and Sunday.
Saturday was fantastic. All current Air Force aircraft were represented, some of which flew in formations never seen before at an air show. Of course the warbirds were what we were there for and we weren't disappointed with their flying displays. Spitfire, Kittyhawk, Mustang, Boomerang, Wirraway, Hudson, Catalina and more recent Meteor, Vampire and Sabre aircraft were all represented and we obtained some incredible footage and images that will appear in the documentary and on the website soon.
Sunday was a repeat of Saturday however, the weather was much kinder to us. Saturday remained overcast which doesn't make for particularly beautiful images. However on Sunday, early cloud cleared, the sun broke through and we had an afternoon of stunning blue sky – as you'll see in some of the images we'll be putting up on the website.
The RAAF should be commended on every aspect of the air show. Not only did it feature every aircraft you would want to see at an air show, but the entire event ran like clockwork. From the aerial displays to those on the ground, even the parking, traffic management and the RAAF personnel who went out of their way to help in any way they could, we couldn't fault the event. Thank you for a truly memorable experience.
If you want to see some of our images and video from the Point Cook Air Show go to our Gallery, or click here.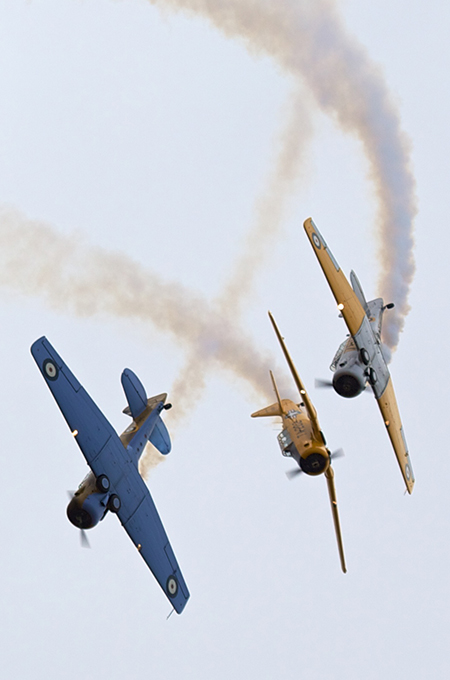 Karl Shoots With New Cameras
The Point Cook and Tyabb Air Shows gave us the opportunity
to put two new Sony cameras through their paces. At Point
Cook, Karl shot with the Sony FS700 with a 100-300mm lens
which produced some beautiful images at 25 and 50 frames
per second.
For Tyabb, George from Videocraft suggested we try the new
Sony F5 with a 100-300mm lens. As beautiful as the FS700
images were, they are nothing on the F5. Shooting at up to
150 frames per second, the F5 has the added advantage of
no buffering as data is written to its cards.
We're sure you'll agree just how stunning the pictures are
when you look at the clip Karl has put together. You'll
find it in our Gallery under Tyabb Air Show or click here.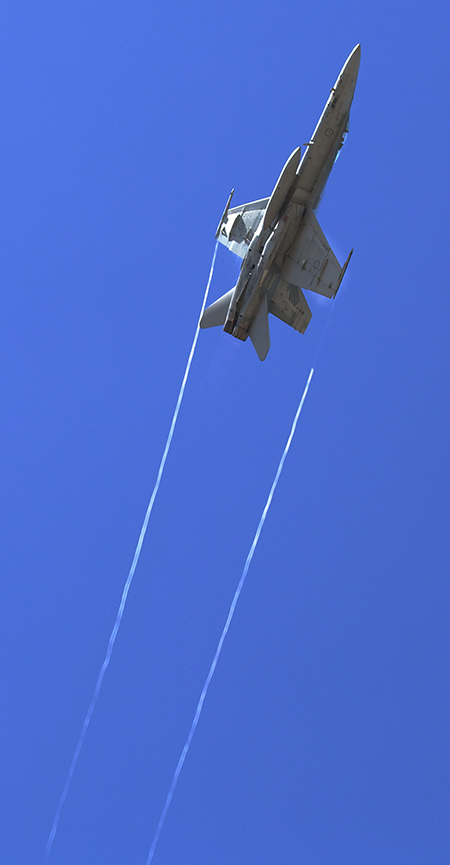 Tyabb Air Show 2014
The Tyabb Air Show is one of the Air Shows we always look forward to. Not only is it close to Melbourne, it has a very family friendly, almost country feel to it and the crowds are nothing like those of the Avalon Air Show. The other great thing about Tyabb is that you can get up much closer to the display aircraft and those that are flying, which makes for even better stills and video.
Saturday was a rehearsal day which is always a great dry run for us, particularly as we brought along a new Sony F5 video camera to shoot with. As with any new piece of equipment, you need to experiment with it to get everything perfect, which by the end of the day Karl had done.
Saturday was particularly good for us as we were able to finally shoot the opening scene for the Broken Wings doco. Thanks to Grant McHerron and Steven Pam from Southern Skies Online Media, we were able to gain access to Judy Pay's hangars where the Spitfire Mk VIII from the Temora Aviation Museum was being stored prior to the Air Show. After speaking with Kenny Love from Temora, we were granted permission to shoot James in front of the Spit doing is opening lines. We also shot more footage of Judy's P-40 Kittyhawk and the P-51 Mustangs which will serve as brilliant cutaways for the doco.
Sunday was of course fantastic and the weather was extremely kind to us with blue skies and temperatures around 32 degrees. Karl shot some incredible high speed footage at around 150 frames per second, which when played back at 25 frames per second becomes super slo-mo and the results are absolutely stunning. Thanks again to George Pana from Videocraft for making the equipment available to us.
The flying program at Tyabb included Tiger Moth's, Sopwith Pup's, Harvards, CT-4's, a Wirraway, Mustangs, Judy's Kittyhawk, Temora's Spitfire and Sabre jet, Paul Bennet's Pitts Special and even included a Hornet from RAAF 3 Squadron that teemed up with a P-51 formerly of 3 Squadron for an unforgettable fly-by.
All in all another brilliant Tyabb Air Show. The Peninsula Aero Club and all its volunteers should be congratulated for putting together such an entertaining and memorable air show.
The images in our gallery below are just some of the thousands of images we shot at Tyabb. To view them, click on an image and it'll expand on screen. If you'd like to see some of the footage we shot at Tyabb, the short video below puts a slightly different 'spin' on traditional air show videos.
If you want to see some of our images and video from the Tyabb Air Show go to our Gallery, or click here.