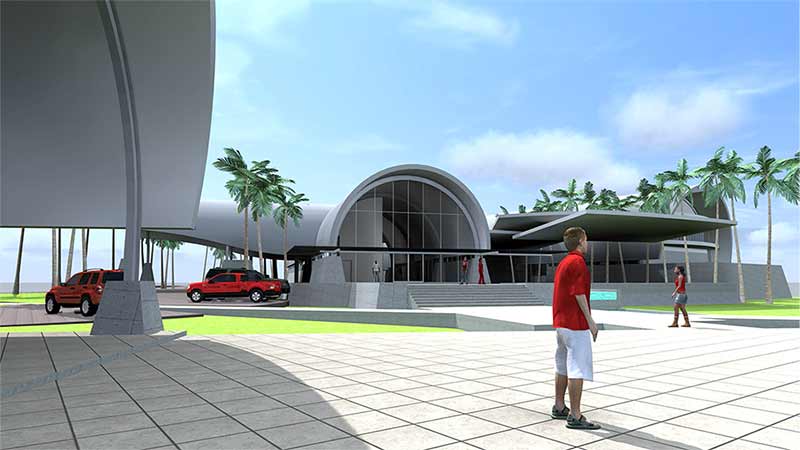 South Pacific World War II Museum Website Launched
Following months of development, the South Pacific World War II Museum in Vanuatu is proud to announce the unveiling of its official website. And we're equally proud to say that Broken Wings built the website on behalf of the museum.
The museum which is in its initial phase of planning, will be a world class complex built right beside the Sarakata River in the middle of the town of Luganville – once home to a US Navy base during World War II. It's location, so close to Luganville's main shopping and commercial area, will provide an economic and cultural centerpiece for the town and provide ongoing employment and training opportunities for the local Ni-Vanuatu people.
» read more
The museum aims to be more than just displays of war-era relics, but a fully immersive, interactive experience about the Pacific Theatre during World War II. It will also feature a café and restaurant, a theatre, extensive archives, conservation areas and recreations of significant military sites throughout Vanuatu, amongst its vast displays.
Visitors will also have the opportunity to explore Santo's rich World War II history first hand. With around 400,000 soldiers, sailors and airmen stationed on the island at its peak, the diversity of former airfields, bases and other World War II sites all over Santo is nothing short of astounding. As the museum's Founding President Bradley Wood puts it, "the museum will stand in the middle of the biggest museum in the world." And it's these sites that visitors will have the chance to visit. Some of the tours will be walking distance from the museum, while others will involve guides from local villages taking visitors on all day hikes through the jungle to reach them. This aspect of the museum is what will make the South Pacific World War II Museum so unique and quite unlike anything anywhere else in the world.
The museum has been designed by leading Australian architect John Pierce who has been influenced by the traditional World War II Quonset Hut design and has turned it into something quite spectacular. The huts, still an historic feature of Luganville, were built by the Americans during World War II for a range of uses. It's their unique, hangar-like roof design that forms the basis of John's vision for the Museum.
Having been granted title from the Vanuatu government for the land upon which the museum will be sited, the team are now swinging into fundraising mode to take the project to the next stage.
The new website can be found at:
A video interview with Bradley Wood discussing the ultimate vision for the museum is available on Vimeo at:
More information about the South Pacific World War II Museum can also be found on their Facebook page.
facebook.com/SouthPacificWWllMuseum
Alternatively, the museum may be contacted via email at:
info@southpacificwwiimuseum.com
» read less
Werribee Airfield Reveals Its Disposals.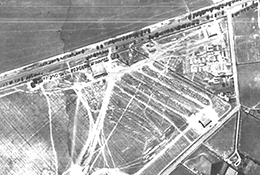 Werribee Satellite Aerodrome was located on the Princes Highway, approximately 33 kilometres south west of Melbourne, Victoria. Constructed in 1942 on land leased from the Melbourne Metropolitan Board of Works in 1940. As its name suggests, the aerodrome was a satellite aerodrome for the nearby Laverton and Point Cook RAAF airfields. It was primarily used for aircraft storage but was occasionally used by aircraft that suffered mechanical problems mid-flight and couldn't make it back to Point Cook or Laverton.
As you can see in this amazing photograph taken in 1945, there were hundreds of aircraft there at the end of the war.
» read more
In fact there were so many fighters, they had to be stored up on their noses just to fit them all in. If you look closely, the mass of aircraft packed together south of the barracks buildings and just above one of the large hangars on the right side of the photo shows them all stacked up together.
As was the case with Oakey, the aircraft were chopped up and smelted down at the conclusion of World War II, while parts and other non-essential equipment was buried in trenches nearby. Two of the larger hangars remain on site today and the hangar in the top right of the frame houses the B-24 Liberator restoration project. If you're ever down that way, drop in on the Liberator hangar, it's an amazing project.
» read less
Crated Spitfire Film Found In IWM
Earlier this year we did an extensive search of film archives both here in Australia and overseas to see if we could track down film of crated Spitfires – something we've been trying to track down for years. Well as luck would have it the Imperial War Museum in London did have some footage.
It's remarkable footage as it shows the crates not only being unloaded and transported, but an aircraft being taken from its crate and reassembled by ground crews. We've never seen anything like this before so to find it was absolutely sensational.
» read more
The film was shot in the Cocos Islands, a remote island group in the Indian Ocean that's been administered by Australia since 1955. During World War II the islands roughly half way between Australia and Sri Lanka were home to three bomber squadrons and 136 Squadron who brought Mk VIII Spitfires with them – the ones shown in the film.
The film is very exciting for us as we can now get a sense of the size of the crates and the difficulties in moving them around as they must have done at 6AD Oakey during the war.
The footage is being made available under the IWM's non-commercial licence conditions and remains © IWM. http://www.iwm.org.uk/collections/item/object/1060028994
» read less
This weeks Moment
James Carter from Broken
Wings talks about how the
myths of buried aircraft have
survived so long.
Former Queensland Policeman
Les Kerr, tells about his father's
story of 10-12 Spitfires being
buried in a location in Queensland.
Former Army Aviation Museum
Curator, Brian Reardon talks
about the burial of a crated
Spitfire at Oakey in 1945/46.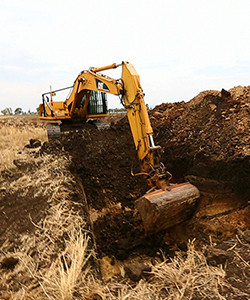 Broken Wings is a documentary film currently in production in Melbourne, Australia. It explores the legend that a quantity of brand new Spitfires still in their original shipping crates, are buried somewhere around the township of Oakey in southern Queensland. Some 553 Spitfires along with Kittyhawks, Mustangs and Boomerangs were disposed of at 6 Aircraft Depot, Oakey at the conclusion of World War II. James Carter and Karl von Moller, both warbird enthusiasts and film makers from Melbourne are behind the venture and it's their fascination with warbird aircraft and a desire to tell a remarkable story, that's been driving this exciting project for the past 16 years.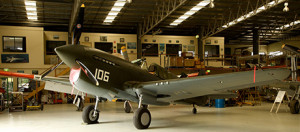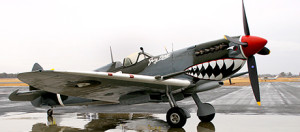 To give you some sense as to how the whole project is taking shape, we've completed our first trailer for Broken Wings. It's by no means the final trailer, but it will give you some sense of where the project is heading. Of course with our recent trip to Vanuatu now in the mix, things might take a different direction and we may fold Broken Wings into Wreck Adventures. But now that we've just completed the next phase of interviews and filming, we're putting together another trailer that will provide even greater taste for what lies ahead. We hope to have the trailer completed soon, so keep an eye out on the website. In the meantime, click on the image and get a feeling for why it's such an exciting project.